(Editor: After reading this great article about New Year's Resolutions in the Geauga County Maple Leaf, we decided to dedicate two weeks of #GCPLResolutions to wellness. We reached out to some of the local community members interviewed, asking them to write Blog posts or suggest resources, which we will be sharing out both weeks. Thank you to these community members, and to the Maple Leaf for starting the conversation! The following Blog post is from Nicole Wilson, MFA, CPT, Personal Trainer and Wellness Consultant at the Geauga Family YMCA.)
The Geauga Family YMCA Helps You Keep it 100 in 2018!
We all know the New Year is a time to set good intentions and make #resolutions, especially when it comes to implementing health and wellness goals. We also know that the challenge becomes sticking to those resolutions throughout the year.
So let the Geauga Family YMCA help you do it!
Beginning in February, the Geauga Family YMCA is offering The Y100, an incentive program designed to celebrate members' progress throughout the year. YMCA Members who register for the free Y100 Program are invited to participate in an active community working together to develop healthy routines, achieve fitness milestones, and have fun completing 100 workouts this calendar year. The Y100 encourages members to stay active while having the option to attend recognition events, win swag, workout with friends, or just pop in some earbuds and fly solo – it all counts toward the goal!
No excuses about boring or repetitive workouts either, as the YMCA offers enough variety to keep everybody interested: daily group exercise classes –Y Cycle, Powersculpt, Silver Sneakers Yoga, and Kickboxing to name a few—lap swimming or lessons in the pool, strength training and cardio sessions in the fitness center, pick-up games of basketball or pickle ball in the gym, and personal training. 
Regardless of how members choose to stay active, the YMCA supports participants by celebrating progress, tracking visits, and offering encouragement every step of the way. Y100 isn't only about turning resolutions into a #reality, it's also about taking steps toward a transformed and empowered life. 
Members can register for Y100 right now – the program starts on February 1. If interested in joining the Y, a joiner fee special of $18 runs till January 31! Learn more.
#ForaBetterUs
Nicole Wilson is currently reading Alone In Antarctica: The First Woman To Ski Solo Across The Southern Ice by Felicity Aston.
Available in the following formats: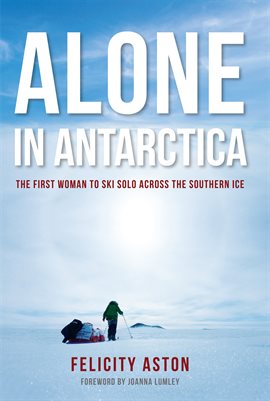 Print
eBook