Sometimes the most obvious things in life are the most overlooked. With all the amazing different resources that GCPL has to offer, we can forget that the library is here to help us simply get reading!
If you're at a loss for where to start, GCPL has you covered. Missed the biggest novels from last year? Catch up and check out the best books of 2017 from ClevNet here or click here for the 10 best books of 2017 according to The New York Times.
I admit that I too have to catch up on my reading. Balancing school, extracurricular activities, and college applications left me with little time to read this first semester. My mom bought me Turtles All the Way Down by John Green as a birthday present, and I can't wait to read it! I'm pretty sure you can't be a teenager without loving John Green. I even visited his alma mater, Kenyon College, when I was looking at schools.
If you're ready to move on to the wealth of literature sure to come in 2018, click here for an article on the best novels to look forward to this year. (It also includes a few book-to-screen adaptations for people who need a little extra motivation or reward in order to start reading.) GCPL has plenty of books, both new and old, to offer.
But making a trek out to the library is oftentimes unappealing in these Northeast Ohio winters. With Libby, you don't even have to go outside to get reading. Libby offers you the library at your fingertips. You can borrow GCPL's eBooks and audiobooks from your phone or tablet, in the comfort of your own home.
I love paperback books and having a physical copy in my hand to thumb over the pages, but my love for eBooks is growing because they are so incredibly convenient. You never have to go without something to read! This winter break I downloaded The Beautiful Ashes by Jeaniene Frost on my phone. My mom read it a few months ago, and told me that I had to read it when I got the chance. It's been a while since we've read the same book, and I didn't realize how much I missed it! Checking in with someone, having them ask what part you're at, bugging them about what happens and who ends up with who and what does this mysterious line mean? It makes the experience of reading a book more exciting. You can even make it part of your "get reading" resolution – grab a buddy and accountability partner when choosing your next novel to read!
Don't wait for the summer reading frenzy to get reading. Start now, and by the end of 2018 you'll have accumulated so much more knowledge and adventure than you ever thought possible.
Happy Reading!
Hailey Oppenlander is a Volunteer Extraordinaire for GCPL. She is currently reading The Shallows by Nicholas Carr. 
Available in the following formats: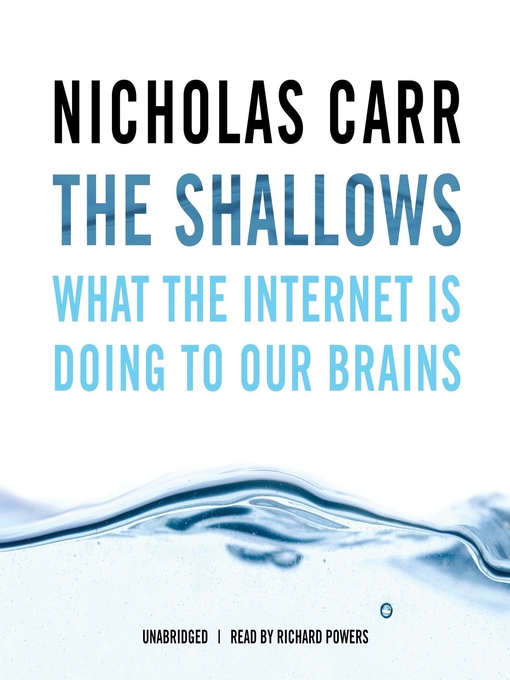 Print
Audiobook (CD  Hoopla  Overdrive)