The following is in an interview with local author and Geauga County Maple Leaf journalist Diane Ryder. Diane recently self-published her first book, Last Flight of the Grey Geese, using SELF-e. She also created print copies through Amazon. And, of course, you can check out a copy from one of our Branches, or read the eBook through Biblioboard's Indie Ohio collection. 
GCPL: When did you start writing?
Diane Ryder: I had always wanted to be a teacher, from the time I was in first grade. So it came as a shock when my ninth grade aptitude test said I should be either a teacher or a newspaper editor. I worked my way through college as a photographer and darkroom technician, learning skills that came in handy later.
After teaching in the Mentor system for seven years, I left to have children, thinking I would go back to teaching at some point. However, I found that my experience and graduate work had priced me out of the market.
A friend, Jan Baracz, had been a local correspondent for a small weekly paper, The Western Reserve Chronicle. She had decided to turn her column over to someone else, and she thought of me (bless her). It paid 20 cents per inch, and 75 cents per photo, but it was perfect for me because I could stay home with my two little girls and still do something creative.
I wrote two weekly columns and ghost wrote two others. At the end of the month, my paycheck would be a whopping $40. But the experience I got was priceless.
That eventually led to full time reporting/photography for the Geauga Times Leader, the News-Herald, and now part time for the Geauga Maple Leaf. I honed my writing skills during 35 years of covering meetings, going to accident scenes, and photographing fires.
GCPL: How does your life as a journalist inform your life as a non-fiction/memoir writer?
DR: I seem to have a compulsion to record everything I observe. Whenever we travel and we see flashing lights up ahead, I automatically grab my camera and notebook. And during every major trip I keep a journal. It's not that I think my experiences are all that interesting to someone else, but as I get older and my memory starts to fade, I enjoy looking back at past events in my life. Plus, I have grandchildren who love to hear my stories.
GCPL: Can you give us a brief summary of the book?
DR: In 1997, I drove my parents across country in their overstuffed, ancient Lincoln Town Car, to the final reunion of my dad's World War II unit, the Grey Geese. We spent more than three weeks traveling from Ohio to Arizona, up to Nevada and Lake Tahoe, then across the Midwest back to Ohio, as my parents said goodbye to special people in their lives who lived in the west and Dad swapped memories one last time with his Air Force buddies.
We also managed to eat buffalo burgers in Cherokee country, marvel at White Sands, explore a UFO museum, encounter a mule team pulling a Conestoga wagon across Nevada, try our luck in Virginia City, and shiver in our summer clothes in the snow at Lake Tahoe.
It was also a journey of re-discovering and re-defining the parent/child relationship, as I gradually took over the parental role, and sometimes overstepped the boundaries. I took over most of the driving when Dad's cataracts made him start the wrong way down a freeway, and tried unsuccessfully to fix Mom's false teeth early one morning.
We drove each other crazy, as Mom obsessed over "BM's" and insisted that we dine on stale peanut butter sandwiches, wilted veggies, and endless Little Debbies in their hotel rooms. Dad set "The Club" on the steering wheel every time he got out of the car, used a flashlight to see the speedometer, and made constant clicking noises when he was stressed. But he popped cassette recordings of appropriate music into the player wherever we drove ("Tumblin' Tumbleweeds" in the Texas panhandle, for example) and did his best to watch over his wife and daughter on their final adventure.
Near the end of the journey, Dad performed an act of heroism for a total stranger, and I finally became a "peach," which was their ultimate compliment.
GCPL: How long did it take you to write Last Flight of the Grey Geese?
DR: I wrote it soon after the trip, when the memories were still fresh. I used the journal as a base, and let it flow at will. The process took the better part of a year, maybe a little less. I worked on it for a few hours at a time, and sometimes, as it was flowing well, it was hard to stop and prepare dinner, or go cover a meeting. I probably spent about 20 hours a week on it for almost a year. When it was finished, I decided not to publish it while my parents were still living, because some of the events were potentially embarrassing, or maybe even painful, for them.
GCPL: How did you decide to go with self-publishing as opposed to traditional?
DR: I had tried in vain for several years to get an agent. Self-publishing companies had been hounding me to publish my book for $5,000, and had been very aggressive about it. Then a relative and a few friends told me how they had self-published through Amazon, and I heard the angel choir. The Amazon system makes perfect sense.
About the time I decided to try self-publishing through Amazon, I saw a notice for a self-publishing program through the library. It sounded like a way to share my book with a lot of people (hopefully). I'm not looking to make a lot of money; I'm much more interested in sharing what I have to say.
GCPL: What advantages do you see in using the SELF-e platform in addition to Amazon?
DR: It reaches an additional audience of local people. Plus, Patrick is amazing with his patience and willingness to help walk me through the process, which is pretty scary at first. By the way, it was MUCH easier than the Amazon process.
Another advantage to SELF-e is that there are no limitations on manuscript length. It is an easy way to get published, especially for the first time.
GCPL: What are you working on now?
DR: A few years ago, as we were sorting through Mom's closets, we came across a box of Dad's love letters to Mom that he wrote while he was stationed in the Pacific during World War II. Mom said to throw them out, because no one would be interested in a bunch of old letters.
Disobedient as usual, I took them, sorted them into chronological order, and transcribed all 675 of them so that Mom would be able to read them whenever she wanted. He had been gone for several years, and she missed him terribly.
She made notes in the margins, and from time to time she would get dressed up, put on her Glen Miller CD collection, and sit and read through the letters. She called it her "date with Dad."
You see, their entire courtship had been by mail. Over a three- year period, the letters became gradually more loving, and eventually Dad got the courage to propose in a letter, then "sweat out" the two weeks it took to receive her response.
So I'm taking the letters, weaving their story through it, and adding some history of what his unit (The Grey Geese) did during the War.
It will be called Love Always. I hope to have it done by late spring or early summer.
GCPL: What advice do you have for aspiring writers? Aspiring journalists?
DR: If you are a writer, you have to write. It's as natural as breathing in and out. Keep a notebook by your bed, because the best ideas come as you are falling asleep. If your thoughts are keeping you awake, get up and write. Let your voice come out, and flow naturally. I don't believe in writer's block. I just brainstorm. I can always X it out later.
The digital age makes the writing process much easier, but use a pen and a legal pad if your thoughts flow better that way. Laura Ingalls Wilder used a pencil and cheap writing pad, as she sat in a special chair made for her by Almanzo.
Use your own voice. Don't try to impress your readers with a flowery vocabulary. Write as if you are talking to your best friend over a glass of Chardonnay.
As for journalism, do it because you love it. Don't expect to make a lot of money. If a big paycheck is your motivation, learn how to be a plumber or a plastic surgeon. But if you are observant and inquisitive by nature, are good at explaining things clearly, and have a desire to inform people objectively, using straight facts, then journalism may be your calling. You will be called on to write about boring topics, exciting topics, tragic events, and mundane information that may seem unimportant, but could be vital to somebody.
The best part of being a journalist is that you never know, from one day to the next, what you will be writing about on any given day. You may come to your desk with the idea that you're going to finish that assignment about the new restaurant in town, but you hear on the police scanner that a factory is on fire.
And no matter how heartrending or maddening the story is, never lose your objectivity. Your job is to observe and report just the facts, ma'am. Your reader's job is to figure out where it fits in the scheme of things.
Oh, and one more thing. In an interview, NEVER ask someone how they feel about something. Ask them to describe what happened, ask a specific question about what they did and why, but asking someone how they feel is lame.
Diane is currently reading Cleveland in the Gilded Age by Dan Ruminski.
Available in the following formats: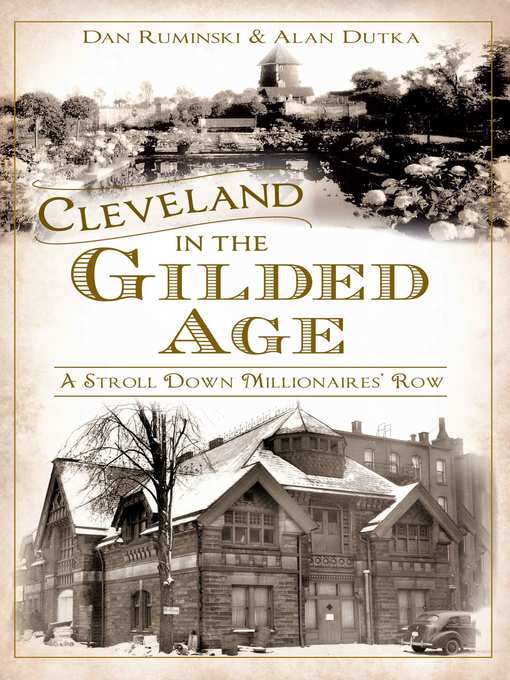 Print
eBook (Overdrive Hoopla)