In this blog entry I'm going to write about what we do… well, around the campfire. Of course there is the customary ghost stories and s'more making that I have mentioned previously. We enjoy certain apps like "Heads Up"- especially the Act it Out portion, "Would You Rather?" – the kids' version, and "Mad Libs"- we have composed some very interesting stories involving urinals (that is what you get when you ask a group of boys for a noun). It's fun to do quizzes and stuff online at websites like Buzzfeed and Fun Trivia.
In the past I have also gotten Choose Your Own Adventure books from the library, in which – as the title suggests – you read a portion of a story and then choose what happens next. We have been to space, under the sea, and in the jungle all from the safety of the campfire, but no matter which path we pick it always seems like we end up dead. After watching five minutes of The Martian or The Walking Dead I knew survival in stressful situations was not my cup of tea. Good thing they are only stories.
In addition to camping and working at the library, I also happen to be a home schooling mom of four great kids. My oldest two have graduated and are working full time as machinists. However, when my oldest was still in school, he was faced with the question "What is love?" as part of a quiz in his Bible study class. The answer they were looking for had to do with a Biblical view of love. But… my son's answer was, and I quote, "Baby don't hurt me, don't hurt me no more" – an homage to the classic 80's song by Haddaway. I appreciated his creativity so I gave him credit for his answer. Since I like outside-the-box type answers, a book at the Thompson Library caught my eye. It is called F in Exams: Pop Quiz by Richard Benson. It is a book filled with funny answers to quizzes and is perfect entertainment for around the campfire. Some of my favorites are:
Q: "Explain how a transformer works."
A: "It is a truck, then it's a robot." – Not quite.
Q: "What is the name of a six-sided figure?"
A: "Sixagon." – So close.
Q: "What are nanoparticles?"
A: "The tiny pieces that grannies are made of." – I don't think so.
Too funny!!! I wonder if any of their teachers gave them credit for their imaginative answers?
The library is full of other books like America's Dumbest Criminals that make for an entertaining time around the campfire or for any other summertime adventures… and yes, I speak from experience. We have had a laugh or two reading that one. Until next time remember: Life is better around the campfire.
Michelle is a Circulation Clerk at Chardon and Thompson. She is currently reading Haunting the Deep by Adriana Mather, of which she says, "It is a young adult book about a girl who is navigating the ups and downs of high school while learning to be a witch and dealing with ghosts. It is the sequel to How to Hang a Witch about the Salem witch trials, which I also enjoyed immensely. In fact, I liked the first book so much that I knew I had to read the second one. So far I am loving the second one just as much as the first. Check it out?
Haunting the Deep is available in the following formats: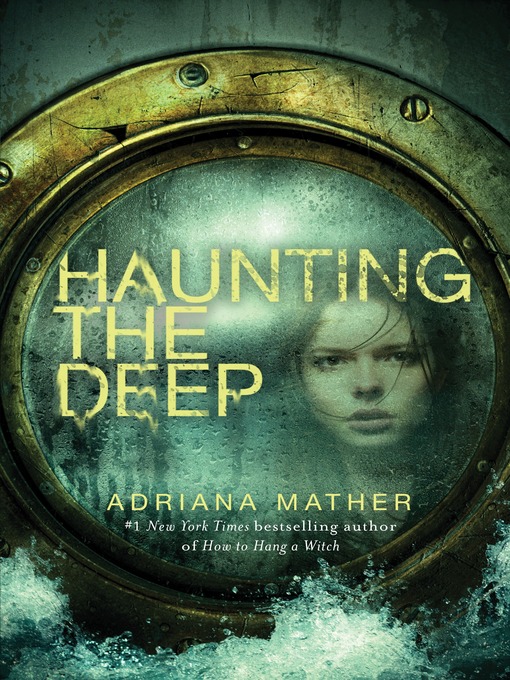 Print
eBook
Audiobook