While at home for several weeks recovering from knee surgery, I chose a book from my own shelves entitled Look Me in the Eye by John Elder Robison. It is a strange and heartfelt account of the author's life experience as an "Aspergian," his own term for those we also label "on the spectrum." Robison is able to furnish a unique perspective of Asperger's syndrome since he is uncharacteristically able to express feelings, and thus give insights into, his metamorphosis from an abused and (perceived) insignificant child to an adult concerned about compassion and understanding as the tools to defuse tension in a society filled with us "neurotypicals." He was not diagnosed until in his forties, nor did he develop an ability to express his feelings until then.
This book is filled with insights for those who may still be struggling to understand the mystery of adult friends or loved ones with this diagnosis. You won't hear this too often, but in one chapter Robison is quite candid in proclaiming a dark side to Asperger's, "and it comes from our childhood dealings with people who do not treat us the way they would like to be treated." He explains his superior gift as a sound engineer, and later as an auto mechanic, as having a comfort level with machines rather than with people. Machines don't talk back or try to trick, they are predictable, and they are never mean.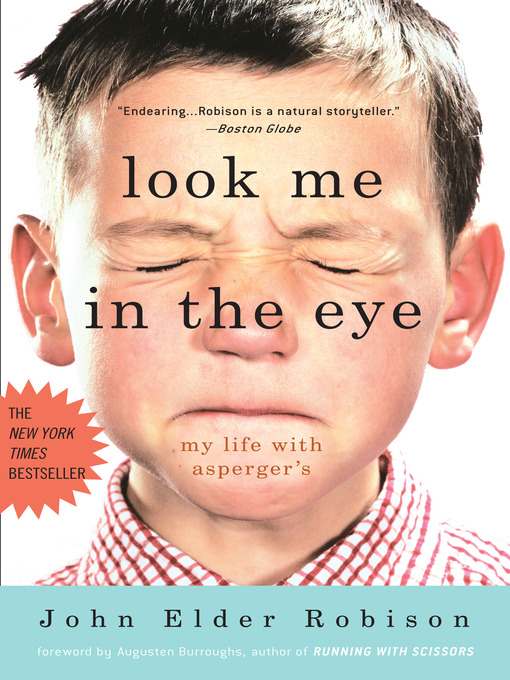 A continuing theme is uncomfortable human relationships and an inability to figure people out. Social limitations kept him isolated for most of his young life, but not by choice. Differences in speech patterns, intensity in learning, literal interpretations, and direct responses all caused confusion and disappointment to plague him throughout this memoir.
There are several chapters recalling the author's travel with popular bands of his day, as he was the mastermind behind the exploding guitars and special effects for KISS and others. It is also interesting to note that John Elder Robison is the older brother of Augusten Burroughs, the author of the autobiography Running With Scissors.
Doris is a Circulation Clerk at Bainbridge. She is currently waiting in line to read Where The Crawdads Sing.