Kat from the Bainbridge Branch wrote the following review of Manhunting by Jennifer Crusie: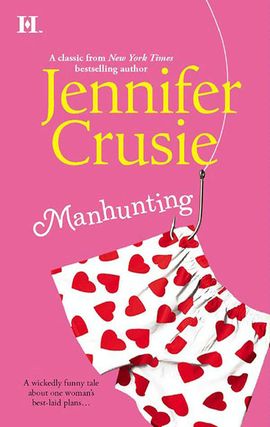 Let's talk romance novels. So many authors! There are swoon-worthy lists with Judith McNaught among the top listed, and Nicholas Sparks having the nebulous honor of being the only male author included.  And so many avid readers!  We have the hard-core skip-to-the-good-stuff buffs – (Plot? There was a plot?) preferring to just steam up their glasses, toss that mass-market paperback aside in careless abandon, and pop a bonbon before moving on to the next bodice-ripper. Some prefer to skip all that obligatory historical fiction; (Isn't it really just filler?) – and just get to the part where Tristan and Genevieve's worlds – er – "collide". Then we have the other end of the spectrum. Sweet, innocent, you-could-read-this-to-your-grandmother-without-blushing kind of book probably with lilacs on the cover art. Chaste, pure, sentimentally wholesome type tales, sometimes with Amish characters acting out a modern-day Jane Austen-like storyline. Both styles I have found entertaining at one time or another, serving a purpose depending on what my mood ring was indicating that day.
My book review, though, is on the type of romance novel that falls somewhere in the middle. I had never heard of Jennifer Crusie until someone mentioned that she was very funny. I decided to read her first novel, Manhunting. I have consistently found that first novels by women authors are very good and I was not disappointed in this one, in spite of the fact that Jennifer herself said of her first book, "It was full of flaws"… It made me laugh. A lot. The hilarious scenarios that kept happening to a woman trying to find in a man the "ideal" qualities on her mate list were priceless. And of course the guy inevitably involved in each incident (to his dismay) was someone she wouldn't even consider.
Manhunting is the kind of book you read when you want "light" reading. I am in the 100 Book Challenge and a goodly amount of the titles are excellent literature, but carry some very heavy topics. Recently I read one that had me swearing to read something light for the next few months.  (Remind me to skip anything that has the word "harrowing" in the description.) Manhunting was the perfect next read after that.
I hope you enjoy laughing through it as much as I did.
Currently listening to: A Walk in the Woods by Bill Bryson
Currently reading: Million Dollar Dilemma by Judy Baer