Carol Istenes from the Bainbridge Branch wrote the following review of the television series Murdoch Mysteries, which is available from Hoopla: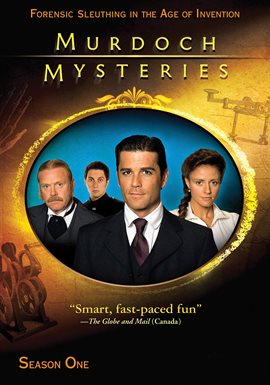 Murdoch Mysteries takes place at the dawn of the 20th century in Toronto, Canada. Detective William Murdoch works for Inspector Thomas Brackenreid at the police station. Constable George Crabtree, along with other talents from the station, help Murdoch investigate murders. Doctor Julia Ogden is the first female coroner in the country who also comes to the crime scenes. Murdoch sometimes makes copies of different inventions to help solve the murders. Thomas Edison, Henry Ford, Nikola Tesla, Alexander Graham Bell, and Sherlock Holmes, to name a few, who have interacted with them on some of the crimes they were investigating. Thomas Brackenreid likes conventional methods of detection over Murdoch's eccentric methods. He is proud of him for his success in solving the cases. William develops a crush for Julia, which he decides not to pursue it just yet. He is also trying to get a promotion, but he is Roman Catholic and his superiors are Protestant.
My husband and I have seen most of the 12 seasons and the Christmas Special. Season 13 came out late last year. Most of these can be found on Hoopla Digital.
I am currently listening to I Hate Everyone, Except You by Clinton Kelly.