Jessica from our Bainbridge Branch wrote this review of Race the Sands by Sarah Beth Durst
Sarah Beth Durst has quickly become one of my go-to Fantasy authors. I enjoyed her Queens of Renthia series. The stories featured a world in which elements of nature are spirits and every spirit wants to kill all humans in rather violent ways. Magic, political intrigue, and family relationships are strong themes featured in the series and they carry over into Durst's recent release, Race the Sands. The opening couple of sentences set things up quite nicely:
Call it what it is: monster racing.
Forget that, and you die.
This stand-alone Fantasy novel follows the story of Tamra, a professional trainer of riders who race monsters called kehoks in the deserts of Becar. In Becar, souls are reincarnated to reflect their state when a creature dies. If you are an awful person you might come back as a slug, and if you try to do good you might come back as a bird or monkey. The worst of the worst people become kehoks when they die: monsters with combinations of features that want to violently kill humans (see a theme here?). Kehoks cannot be redeemed and will be reborn as different variations of themselves until the end of time. Kehok racing brings excitement to the Becar empire in a time of unrest and after a series of races gone wrong, Tamra needs to find a rider who has what it takes to be a champion.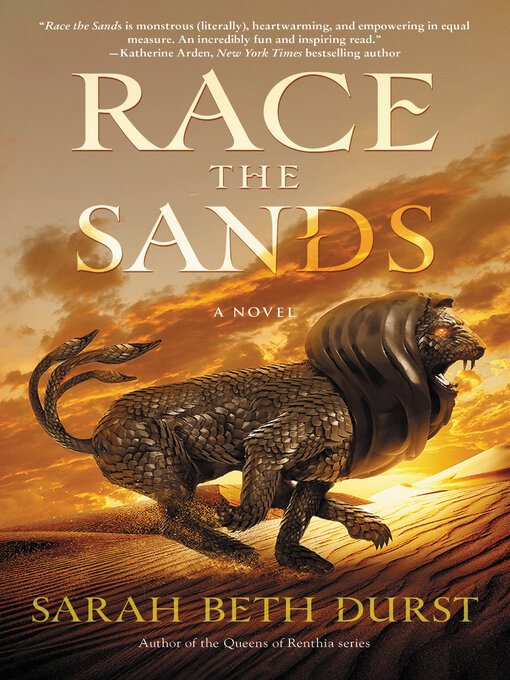 The world building in this story is great, but even better are the relationships between the characters. The dialog is smart, and despite the monsters and desperation of the characters, there is a wry sense of humor throughout the book. There were parts that were a little predictable, but I couldn't read the ending fast enough. I ended up staying up until 4:30 to see how everything resolved.
I'm currently reading The Tourist Attraction by Sarah Morgenthaler and listening to The Trouble with Hating You by Sajni Patel.